Alice FAQs
Views:1823
Writer:Alice
Time:2022-01-21
General
● What is Alice?
Alice is one of the brands belonging to Guangzhou Romance Musical Instruments Co., Ltd. Together with Romeo and Wangzhe, Alice is one of the brands selling more than 2000 various musical instrument accessories that are designed to match each of your needs.
● When was Alice established?
Guangzhou Romance Musical Instruments Co., Ltd was established in 1999. We have been manufacturing and selling quality musical accessories for over 22 years. By investing in the quality of our products, we have grown to become a well-recognized musical instrument accessories brand loved both by music performers and music lovers.
● What does Alice sell?
Alice is one of the primary brands under Romance which sells a wide range of musical instrument accessories. Some of these accessories include but are not limited to guitar strings, bowed instrument strings, traditional Chinese instrument strings, guitar picks, different types of capo, machine heads, and more. Our products are designed to meet a diverse range of music lovers' needs. Click here to download our product catalogue.
● How popular is Alice in the music industry?
Alice's team has participated in the most prominent professional music trade shows held in Los Angeles, Frankfurt, Beijing, Shanghai, and Guangzhou. We at Alice love music just as much as you do. We have appeared in music magazines, including "Musical Instrument", "Guangdong Musical Instrument World", "China Musical Instrument Sourcing".
Ordering
● Can I order customized strings and accessories?
Yes, we can offer customization and OEM services. Contact us to discuss your specific needs and we will be more than happy to assist you.
● Where can I buy Alice's musical instrument accessories?
You can buy Alice's accessories through our official representatives and authorized dealers. You can also contact us directly and we would be glad to assist you at any time. We also have an official Amazon store, where you can find and purchase some of our products.
● How do I become an authorized dealer in my region?
Contact us to become an authorized Alice dealer in your country or region.
About Alice's Accessories
● How good are Alice's strings and accessories?
Alice's musical instrument accessories are known for their fashionable design, premium material, and lasting quality. All our products are manufactured in our highly-automated production area. We strictly monitor the quality of each of our products throughout the full production line. You can rest assured that when you choose Alice, you are opting for high-quality musical instrument accessories.
● How high is the quality of Alice's strings and accessories?
All our products are subject to multiple stages of quality control before being shipped to you. Our materials and finished products are thoroughly tested with chemical, mechanical, and structural methods. We fully enforce the ISO9001:2015 standards for our whole production cycle, from raw materials to finished and packed goods.
● Where can I find the gauges and sizes available for Alice's products?
You can browse our wide product collection to find what you are looking for. You can also download our latest product catalog, where you will find a summary of our product series with more information about their sizes and gauges.
● How do I find the specifications for my particular guitar or musical instrument?
On each product page, you can find more information about what products would best suit your musical instrument and other specifications. Alternatively, you can also download our complete product catalog or contact us to request more information.
● How do I find specifications for a musical instrument accessory not on your website?
The accessories you can find on our website cover the vast majority of our product collections. If you need help or have any questions about our products, you can contact us at any time.
● How can I know if the Alice's products I bought are real or not?
As the popularity of our brand grows, we have unfortunately seen counterfeit Alice products sold on the market. Stratch and scan the QR codes to check the authenticity of the products you purchased. To ensure that the products you selected are authentic, we recommend buying directly from our Amazon store or our official representatives. Please contact us if you have any questions or require further help.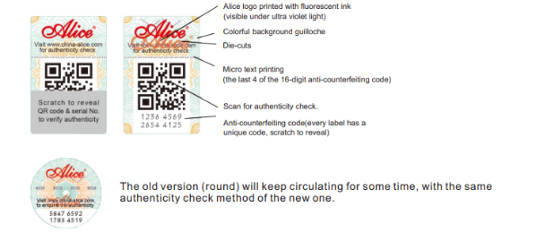 ● How can I report counterfeit products?
If you discover any counterfeit Alice products, please do not hesitate to contact us. You can send us the link to the fake product and any other information you would like to share with us. Thank you for your support and cooperation!
About Alice's Manufacturing
● How big are your manufacturing area and workshop area?
All our products are manufactured and displayed in our 8 self-owned buildings located in Guangzhou, China. Our workshop area extends for about 30,000m2, including 5 buildings with standard workshops. Our warehouse center covers an area of 5,000m2.
● How many production lines does Alice have?
Romance (and Alice as one of its brands) can rely on 12 professional production lines of musical instrument strings, 8 lines of instrument accessories, and 16 lines of string material processing. Our string material processing involves the handling of different materials, including copper plating, silver plating, tin plating, nickel plating, wire drawing, and annealing.
● What makes your production lines so special?
At Romance, we are committed to delivering only the best musical instrument accessories with reliable quality and extreme comfort of use. 90% of our production lines are automated so that we can reduce most quality defects and human errors.
About Alice's Cooperation Process
● How does working with Alice look like?
Contact us to request more information and a free quotation about the products you are more interested in. Once everything is confirmed, we will start manufacturing the products you ordered according to your specific requirements.
● How long does it take to receive my order?
After the products you ordered have been manufactured according to your needs, you can expect to receive your order within a reasonable time. The exact delivery time depends on your order quantity and specific requirements.
● What should I do if I received a defective product or my order doesn't meet my original requirements?
At Alice, we always strive to deliver the maximum product and delivery quality to all our customers. However, accidents can happen once in a while. If you are not satisfied with your order, please do not hesitate to contact us at any time.