Choose the Best Alice String Set for Summer Fun!
Views:445
Writer:Alice
Time:2022-09-15
What's your first impression of summer music? The words that rush to the tip of your tongue may be lively, sweet, nimble, and joyful. According to these indicators, the instruments that match your imagination about summer are Ukulele, Mandolins, and acoustic guitar. But how do you make these instruments sound best when playing in the summer, a sweaty and hot season whose high temperature will affect their strings' tone and lifespan?
With an Alice string set, you can feel confident anywhere, knowing your instrument will sound its best. Forget the sweat and grime build-up this summer.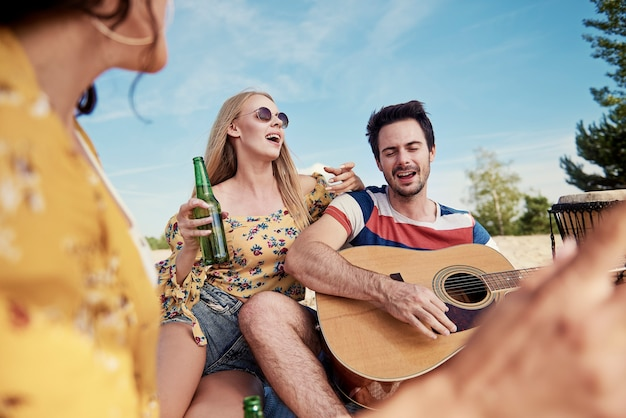 The Secret is in the Strings
For many of you, acoustic guitars, ukuleles, and mandolins are your instrument of choice, and some of you have concerts and gigs planned. To make sure the smoothness of the overall performance, it is important that the musician choose the high-performance strings available. Alice string sets are available in various gauges and materials. This is to make more custom sounds and to adapt to different conditions.
Playing outside is intimidating because you don't know how your instrument will react to the heat, dirt, and sweat. Every Alice string set is built with the same quality, and it is the ideal string for jamming outside since it includes an anti-sweat and water-resistant coating. This usually makes the strings feel soft and smooth.
However, some coated strings tend to dampen the bright and high notes of the instrument, making it a bad trade-off for some musicians. This is not good for ukuleles, guitars, and mandolins since they normally create bright and warm tones. Alice gives you where to buy guitar strings that won't change your guitar's sound. The Alice string set focuses on offering protection and also bringing out the best tone of your instrument.
We'll be looking at three popular summer instruments and recommended string options.
Choosing the Perfect Ukulele String Set
Ukulele strings are usually made of nylon, but there are also: steel strings, wound nylon strings, wound metal strings, and fluorocarbon strings. These types of strings all have their own pros and cons, but for this hot season, Alice recommends using a carbon string set.
Carbon strings are more durable than traditional nylon strings and aren't as affected by heat and direct sunlight as steel strings. Alice ukulele strings go a step further by delivering a bright, clear tone with strings that won't become dull over time.
Alice recommends the AU048J ukulele Alice string set for all your summer trips and performances. Built with a unique golden carbon material, Alice's ukulele string set will sound great all summer long.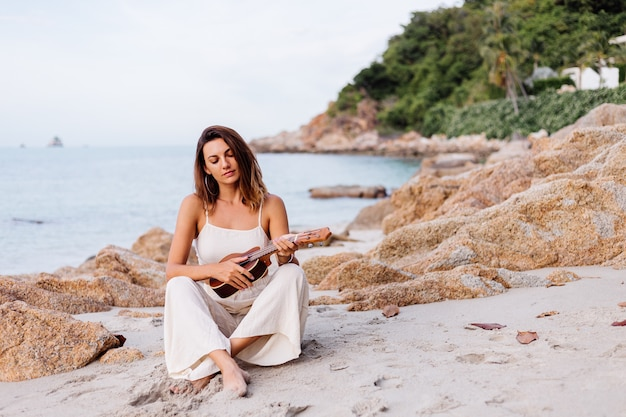 Unreal Mandolin Strings for Bluegrass, Classical, and Folk Style Music
There's nothing more attractive to the ear than an instrument that brings a different tone and style to the mix. Mandolins are a great stringed instrument to learn and jam with because of their natural high-pitched tone and tremolo.
Choosing the right kind of string for summer performances and casual playing is important for mandolin players because strings wear out faster in heat and direct sunlight. Plus, mandolin strings are usually plucked, which means a higher chance of breaking strings.
Feel secure with the AM08 Alice string set for mandolins. Imagine jaw-dropping tone quality every time you play. These nickel-plated and silver-plated strings are coated with a special anti-rust layer that feels silky smooth.
It relieves you from the agony of replacing strings as often. With an Alice string set, play more bluegrass and many other styles without dampening the sound of your mandolin. Don't settle for subpar quality.
No Summer Vibe Without the Guitar
Acoustic guitars are the backbone of summer music festivals. They are found in country music, bluegrass, singer-songwriter performances, and pop music. Basically, any genre you play or listen to can include or depend entirely on good guitar tone and sound.
Ed Sheeran is famous for his simple chords and clever chord progressions. And he relies mostly on his voice and guitar to create stellar music and songs.
With Alice's guitar strings, you can create bright tones that cut through the sound of other instruments. With the AWR480 acoustic guitar Alice string set, you will receive a sweat and water-resistant coating that also makes playing easier and minimizes dirt build-up.
We at Alice offer you high-performance and durable strings so that you can make music that inspires fun, laughs, and memories.

Wrapping Up
Alice is a technology-focused company that keeps improving string quality and accessories to raise overall instrument playability. With more than 2000 products, Alice is a world-class company that delivers quality and dependability with all its products. Any Alice string set is made with the same care and dedication. Looking for where to buy guitar strings and strings for any other stringed instrument? Don't miss out on affordable and superior quality by making sure to discover more!