Daniele Defranis Visited Alice for Feeling the Best Classical Guitar Strings
Views:711
Writer:Alice
Time:2022-09-15
Every guitarist must have a lot of words to say when talking about how the quality of a guitar set matters. As the most important part of a guitar, strings play an irreplaceable role in the sound performance of a guitar, especially a classical guitar. A high-quality classical guitar string set should have a great tone, stable pitch, good playability, and a long lifespan. To find the best classical guitar strings, Daniele Defranis, a composer, arranger, teacher, concert performer, and guitarist from Milan, Italy, has come to Alice's factory and felt Alice's guitar strings in person.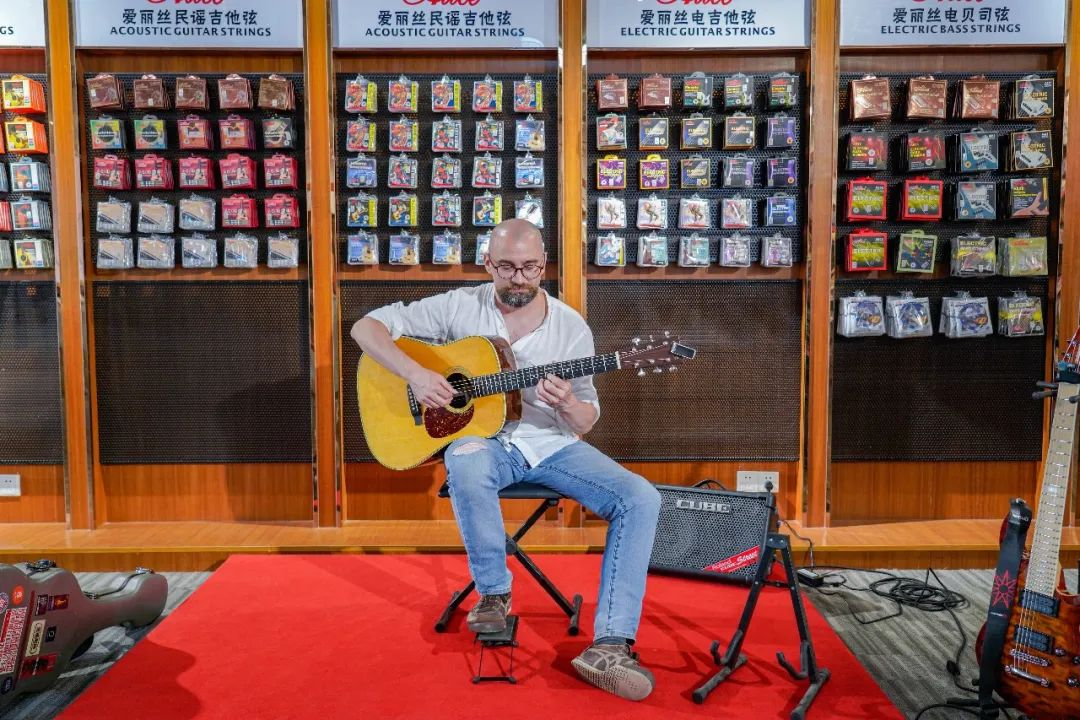 Who Is Daniele Defranis?
Daniele, who received a master's degree in classical guitar from the Scuola Musicale di Milano, has learned classical guitar from world-class teachers and has won numerous prizes regardless of his domestic country and the global range. Many times, he has performed in clubs and concert halls in Italy, Europe (Germany, France, Denmark), and China. Sometimes, he plays for special occasions, festivals, or important international organizations, including the Rotary Club, Chaine des Rotisseurs, Italian Consulate, European Union Celebration, American Chamber of Commerce, Music Capital City Conference, and Greater Bay Area Dance Week.
Now he lives and teaches as the director of the Italian Art and Music Study Abroad program at FCAEC Art Center in Dalian, China. This time, he went across 1927 miles in China to chase his muse and find the best classical guitar strings in Alice.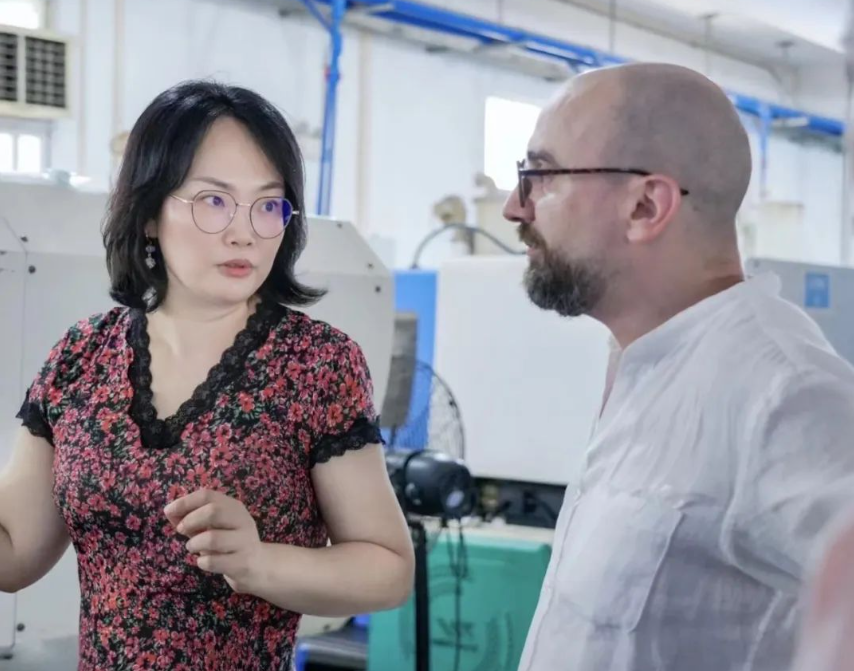 Journey in Alice Factory
Led by Chen Liping, Alice's manager, Daniele has visited the production area and learned Alice's strings' processing requirements and testing standards.
Production: In the production area, Daniele has met the advanced manufacturing machines that Alice applies. These include automatic winding machines, ball-end attaching machines, advanced CNC winding machines, fret wire machines, hexagonal core automatic rolling machines, and fully automatic rolling machines. As introduced by Chen, Alice has not only imported advanced automatic machines but also kept researching to innovate machine devices for producing close-to-perfect string sets.
Testing: With vast investment in introducing precise testing devices and building talented teams, Alice has established an inspection and test center which has greatly impressed Daniele. The spectrum analyzer, servo control tensile strength tester, salt erosion tester, non-contact laser diameter gauge, etc., are all supporting the born of high-end strings with well-balanced tension, superior responsiveness, good tenuto, and high playability.
"Once You Play It, You Will Like It."
After having a deep understanding of how Alice's strings are made and tested, Daniele showed his amazement and admiration for Alice's pursuit of meticulousness and excellence. Then, he was invited to perform with the best classical guitar strings AC158 provided by Alice, which are praised for their beautiful sound and comfortable feel!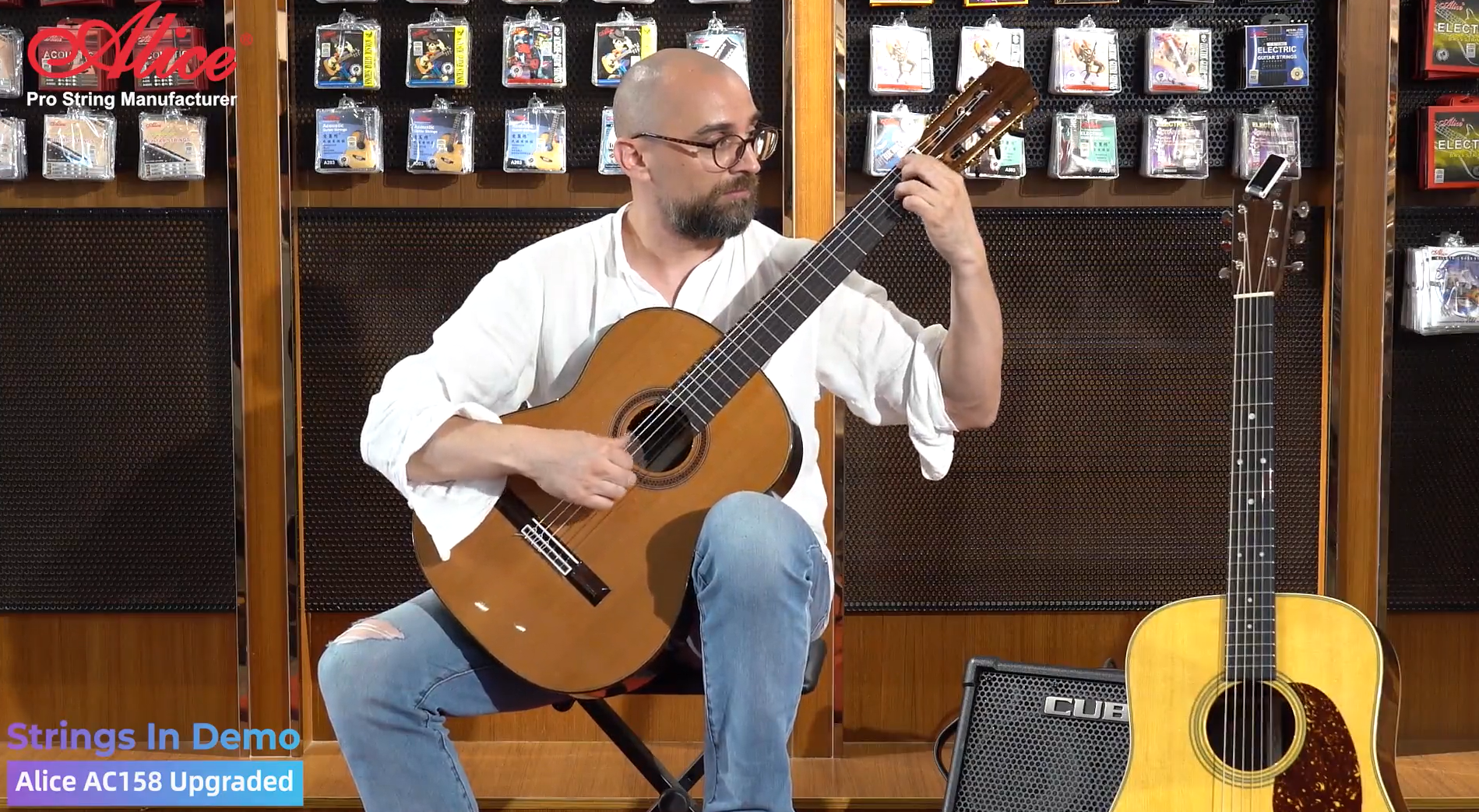 Superb guitar skills plus the best nylon strings for classical guitars equal unparalleled aural pleasure – that is everyone's thought when enjoying Daniele's performance. The infectious melody flows slowly into everyone's heart, building an illusion that we are lying comfortably on the beach under the blue sea and blue sky, bathing in the warm sunshine and feeling the gentle sea breeze. This will be an unforgettable experience forever!
Enjoy the Best Classical Guitar Strings from Alice!
When searching for the best classical guitar string brands, you will end up embracing Alice's strings, just like Daniele. Here we are delighted to introduce our well-designed AC158 classical guitar string set to you. This string set comprises crystal nylon and Carbon(G), providing a comfortable playing feel without affecting the forceful timbre. Its characteristics of multifilament nylon core, silver plated copper winding, and Nano polished coating have endowed itself with durability. Thanks to all these features, it will be one of the best classical guitar string sets for concert use.
There are two string gauges for you to choose: hard tension version (0.0285, 0.033, 0.034, 0.030w, 0.036w, 0.044w) and normal tension version (0.028, 0.032, 0.033, 0.029w, 0.035w, 0.043w). You can make a decision according to your actual needs.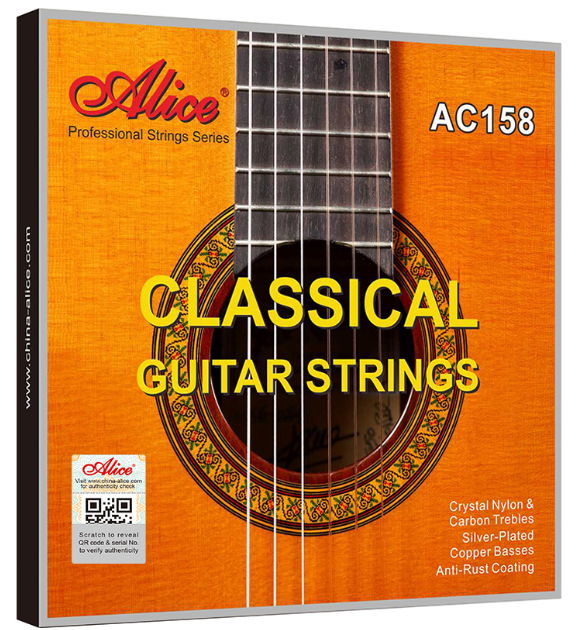 Conclusion
In the 1990s, we at Alice set the aspiration of supplying music lovers with creative musical instrument strings and accessories. With years of effort in this field, we have gained a profound understanding of music and rich experience in manufacturing, and these priceless properties are all invested in innovative products like our best classical guitar strings AC158. That is the reason why Daniele Defranis is fascinated by our products on their first use.